Vladimir Nabokov threw a Molotov cocktail into twentieth-century literature with Lolita. Alexander Solzhenitsyn survived Russian forced-labor camps and brought the word gulag into the global lexicon. Plenty of drama involving both of them appears in The Secret History, but as characters in the book they nonetheless faced competition from a lesser-known, scenery-chewing German named Carl Junghans.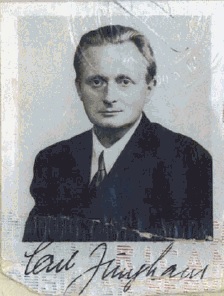 In his late twenties, after stints as an extra, an actor, and a dramaturge, Junghans developed into a Communist filmmaker sympathetic to Soviet Russia. He also became involved with Vera Nabokov's sister Sonia Slonim in Weimar-era Berlin. When exactly the pair met is a mystery, though the odds are good that it was in the mid-to-late 1920s, when Slonim, in her late teens, was taking classes at a drama school in the city and Junghans, eleven years older, was himself acting, editing, and working as a film critic in Berlin. (Their overlap in the city came on the heels of Vera and Vladimir Nabokov's marriage.)
Independent filmmaker and Communist propagandist
By 1930 people knew Slonim and Junghans as a public couple, referring to her as his girlfriend. Junghans had established himself as a serious artist by writing and directing one of the last transcendent silent films, Takový je zivot (Such Is Life), a Czech independent feature released in 1929. By that time, he had also completed montage tributes to Vladimir Lenin and the Russian Revolution.
Not long after, he may also have served as literary inspiration to Vladimir Nabokov. In Camera Obscura, Nabokov's 1932 novel, teenage Magda aspires to be an actress and ends up in an affair with Bruno, an older German critic whose life she destroys. The novel, eventually called Laughter in the Dark in English, was written at the end of Slonim and Junghans' Berlin relationship.
Did the eleven-year gap between Carl Junghans' and Sonia Slonim's ages inspire Nabokov to tackle the older man-younger girl theme? He had recently touched on a man's post-death sexual encounter with a girl in the dreamlike lines of the 1928 poem "Lilith." But Camera Obscura represents his first in-depth attention to the split-age pairing that would later dominate Lolita.
Filmmaker for the Nazis
Slonim left for Paris in 1931. As the Nazi party began to acquire significant power, life in Germany for Communists became difficult and sometimes dangerous.
Leaving while it was still easy to do so, Junghans divorced his wife and left for the Soviet Union to make a film on American racism with Langston Hughes. Production was repeatedly delayed, and the project turned into a disaster. The script was unacceptable to Hughes and the fellow travelers who had come with him to Russia. Filmmakers were disappointed that the well-educated visitors seemed uninterested or incapable of improvising Negro spirituals for the film. Efforts to make the movie slowed and slowed before staggering entirely to a halt.
While in Russia, Junghans acquired a second wife, which nearly trapped him in the Soviet Union for good. Between the failure of the film and his near-hostage state, his experience with Communism under Stalin seems to have thoroughly disillusioned him.
He returned to Nazi Germany and began making films, increasingly for Nazi-run studios or Nazi collaborations. His projects included several political titles, among them The Great Age (a documentary about Hitler) and Youth of the World, a film of the 1936 Winter Olympics. He also helped Leni Riefenstahl with her epic project on the summer games the same year.