If you're out there reading this, Evgeni Nabokov, I'm very, very sorry. Though you don't really have anything directly to do with The Secret History, I thought it would be fun to write something about the fact that you, the New York Islanders' goalie, share a last name with Vladimir Nabokov.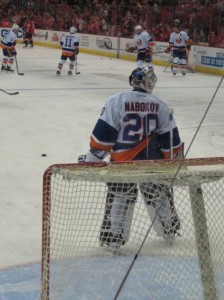 Given that the Islanders were heading into the playoffs, it seemed perfect to pitch "Nabokov Wins One for the Islanders" to the whip-smart McSweeney's Internet Tendency, describing it as "Speak, Memory set in the NHL." And they, too, thought it sounded like a good idea.
In the piece I wrote, a narrator much closer to Vladimir Nabokov than to you describes his stint in the crease during an Islanders playoff game. The piece ran, and was called, variously, "the best thing ever" and falling within "the 'currently killing it' category." The CBC picked it up tonight and had me read it aloud for their "As It Happens"  radio program, including a short Q&A about how I became interested in your career, along with that other Nabokov.
But clearly we were mistaken. You allowed four goals on 15 shots, and the Islanders ended up losing the game 5-0. I received a peremptory email from Luke in Montreal, blaming me for the loss. By writing my piece, he claims that I jinxed you. Luke also, rather consolingly, tells me I am the most amazing American woman he has never met—and adds that he will buy my book as soon "as it comes out in paperback on amazon probably."
So for ruining the series opener, and for making Luke sad, I would like to apologize. Moving forward, I will stay away from playoff predictions in the titles of any pieces I write, and will try to focus on just Vladimir Vladimirovich.