Thursday, May 2, I'll be reading from The Secret History at Magers & Quinn Booksellers, Minneapolis/St. Paul's largest independent bookstore.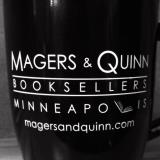 The event starts at 7:30 pm. I promise not to do the Mary Tyler Moore thing with the hat, because everyone there has probably already seen that at least once or twice. But I am excited about my first visit to the Twin Cities.
The following night, May 3, I'll be at the Book Cellar in Chicago starting at 7pm. They have books! They have wine! We will talk about Nabokov! What more could you want from life?
Yet there is more. For my upcoming book events through June 15, I'll be handing out a quiz that will find out how well readers know Nabokov's books. So if you see me in Minneapolis, Chicago, San Francisco, West Hollywood, or Washington, DC, be sure to fill one out. (For dates and times in each city, see the Events page.)
You don't need to have read my book to answer the questions—any Nabokov lover will have a shot at winning. Entries have to be filled out in person without Internet assistance and turned in at the event. The highest score wins, and I will mail the winner his or her choice from some fabulous Nabokovian prizes. (To get an idea of what they might be, the prize for the photo contest was a beautifully embossed, newly annotated Grimm's Fairy Tales).
Hearing from people who have already read The Secret History is wonderful, and it's also great to get out and talk to readers who are interested in Nabokov and history and would like to know more. Thousands of people have visited this website from 67 countries and all but one American state (South Dakota, call me sometime, will you?). I hope to meet each of you in person one day.