Thanks to all of you who sent in pictures of yourselves with your copy of The Secret History! I'll announce the winner of the drawing (and explain our super-scientific method for choosing) in a moment. But before we get to that, I'd like to share two photos that knocked my socks off even though they didn't win.
First up is Detroit's Scott Screws lounging curbside, with what may be the most creative entry of the bunch. (Take a quick peek here if you don't get the joke.)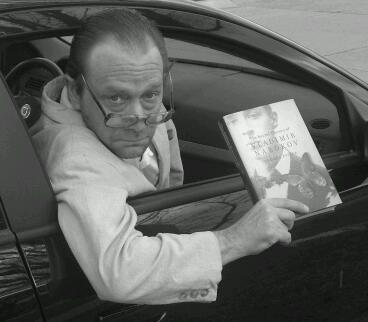 And second up is the equally impressive submission by Michael from Seattle, whose Nabokov collection (this is only part of it) may well surpass my own—and is much more beautifully arranged.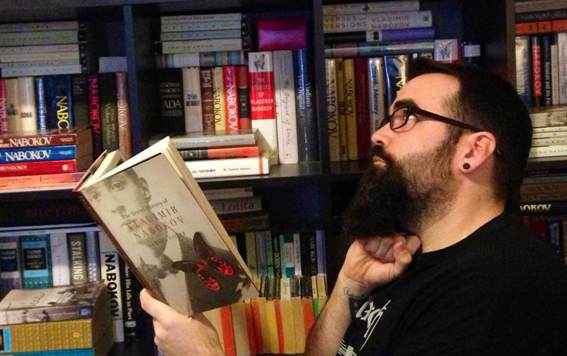 How, you may ask, can it be that neither of these Nabokovians was chosen as the winner of the contest? Well, I left the outcome entirely to chance. Writing the name of each entrant on a green post-it note, I put them all in our special contest hat (possibly a relic of a recent holiday).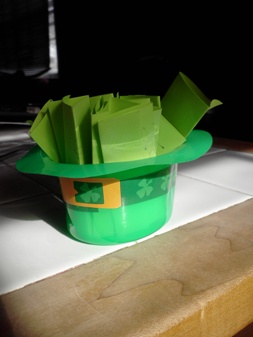 Then I had a bystander look away from the hat and pull out a name. The name chosen was Mike Innocenzi, from Chicago, who is the winner of a beautifully bound and illustrated bicentennial edition of The Annotated Brothers Grimm, a story collection edited by Maria Tatar, with an introduction by A.S. Byatt.
Here's Innocenzi's self portrait with The Secret History: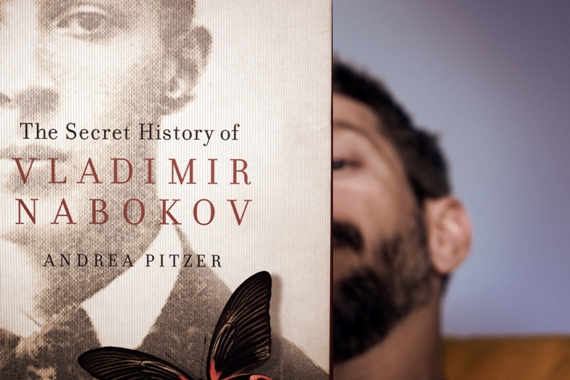 Thanks again to all who participated! Stay tuned for future chances to win strange literary ephemera vaguely related to Nabokov.