When most people think of the Russian Revolution, they think of 1917, the fall of the Romanovs, and the Bolshevik takeover. But before that Revolution (which was actually two revolutions, months apart), there was another one. More than a year into a disastrous war with Japan, and after months of strikes and bitterness over protesters killed in the streets, Tsar Nicholas II was forced in 1905 to make concessions to the people he ruled.
Plans were made to hold elections for a parliamentary-style congress, to be called the Duma. Many revolutionary parties scoffed at the idea of the Duma and boycotted the election. But Nabokov's father, who was not a revolutionary, ran as a member of the progressive Constitutional Democratic Party (Kadets) and was elected.
The Kadets controlled the First Duma in coalition with the Trudoviks, a moderate group of socialist revolutionaries. The possibilities for partnership began to sour quickly, with disagreements over land reform and Trudovik resentment of Kadet dominance in the new body. But for a time, they did manage to collaborate on legislation. An eloquent speech from V.D. Nabokov against the death penalty led to the passage of a measure outlawing it. Other steps were proposed to relieve famine conditions.
Nabokov's father also gave a memorable speech arguing that the power of the Tsar and his ministers must be subordinate to that of elected lawmakers. The government did not agree, and the First Duma, a beacon of possibility for Russian democracy, was dissolved.
The decision stunned the legislators. The next day approximately 200 of the chamber's deputies, mostly Kadets and Trudoviks, took a train across the Finnish border to Vyborg and put together a manifesto calling on Russians not to serve in the army or pay taxes. The image below was taken by photographer Karl Bulla, who traveled from St. Petersburg in the summer of 1906 to capture the moment.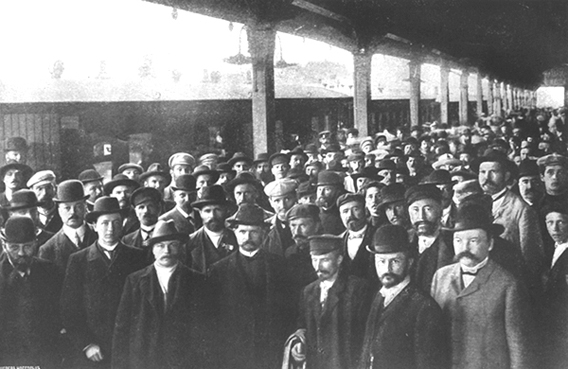 I love all the hats in the picture—the dark homburgs and paler fedoras, the workers' flat caps and the Swedish model not yet adopted by Lenin, all gathered together.  A man in what appears to be a driver's cap stands in the front, glancing down, while in the second row at the bottom left, V.D. Nabokov stares into the camera, exquisitely dressed in a tie and bowler, looking dismayed. As well he should—every deputy who had signed the manifesto was later put on trial, and most were sent to prison, including Nabokov's father.
One of the extraordinary things about this picture is the degree to which this part of Russian history was later ignored in the West. Elected representatives created legislation in a coalition between social progressives and agrarian revolutionaries—a political reality far from both the autocratic Imperial rule that preceded it and the Bolshevik extremism that followed. Think of this picture as a snapshot of a Russia that vanished, a rough democracy of shared interests—and hats—that had great promise but didn't last.
———
[The importance of V.D. Nabokov in his son's life and writing is explored in The Secret History, but others have looked at it in depth. Curious readers can check out Nabokov's own stories in Speak, Memory, as well as Brian Boyd's Vladmir Nabokov: The Russian Years, and the dense but very smart Vladimir Nabokov and the Poetics of Liberalism by Dana Dragunoiu. All have much to offer on this front, as, I'm sure, will Gavriel Shapiro's The Tender Friendship and the Charm of Perfect Accord: Nabokov and His Father, forthcoming this fall from the University of Michigan Press.]