Love him or hate him for it, but Nabokov excels at depicting the exquisite intimacy of violence and the deliberate way one person exerts power over another. (For those who have read Nabokov's most famous book, just recall Humbert Humbert erasing Lolita's humanity as he recounts his appalling behavior in the novel's sofa scene.)
A December 23 Washington Post review of a new novel about Soviet Russia reminded me of how the background threat of violence can carry a reader or viewer deep into a tale. Think of the most refined version of Hitchcock's bomb-under-the-table scenario and how it's amplified when one character contemplates in the moment whether or not to harm another.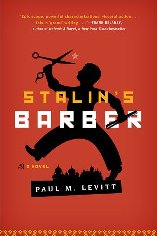 In Stalin's Barber, author Paul Levitt tells the story of Razeer Shtube, a Jewish man fleeing fascism and anti-Semitism in Albania for the bright promise of Soviet life under Stalin in 1930s Russia. The main character eventually ends up as barber to Stalin himself. Having been disabused of his notion of the magnificence of life in the Soviet Union, he comes to imagine how he might kill the monster who sits vulnerable before him. But like Nabokov, Levitt is smart enough to inject a kind of horrible comedy into the situation: the barber knows that the paranoid Stalin has body doubles, so the protagonist remains uncertain whether an assassination attempt would even eliminate the right man.
Looking at Levitt's CV online, I noticed that he had done a talk titled "Stalin's Barber" at a European history conference in 2009. Asked last week by email about historical source material for his book, he mentioned that the talk he gave is also posted as a PDF. It reveals the lengths to which he went to give his story historical context—including nosing around for information about Stalin's real barber, Karl Pauker, a former Hungarian hairdresser for the Budapest Opera.
Levitt spun his idea out from there, inventing his imaginary barber's life. "I heretically think that some fiction and poetry can teach us more about the Soviets than the major biographies and histories," he said in his 2009 talk, suggesting that at times fictional works can "communicate the truth in ways that primary sources cannot."
This idea of a monstrous villain vulnerable to his barber recalls Nabokov's short story "Razor," in which the narrator, an émigré veteran of the Russian Civil War, endured a horrifying interrogation years ago in the Ukrainian city of Kharkov. (Nabokov would likely have known that Kharkov had been a particularly bloody prize in that war, having been traded back and forth between White and Red Army forces.) Now a barber in Berlin, the narrator one day recognizes his torturer sitting before him, a client in his barber's chair. He contemplates killing the man. As he begins to shave his former interrogator, the barber reveals who he is, and then…
Well, I don't want to spoil the story, even though it's not one of Nabokov's best. Go read it for yourself.
Levitt's protagonist is Razeer; Nabokov's is nicknamed "Razor." And there are other parallels between Levitt's story and Nabokov's fiction. In a world gone mad, a family member in Stalin's Barber ends up—where else?—in the madhouse. The Post review describes how the man,
…an idealistic doctor, is sent to work in a mental institution where political dissidents are confined; they are, of course, among the sanest people in the novel. In one touching episode, the doctor loses his heart to a beautiful aristocrat who is kept in solitary confinement; they become prisoners together, talking about art and poetry and music, indifferent to the mad world they have left behind.
Political dissidents subjected to psychiatric abuse in the Soviet Union are part of the past that The Secret History touches on, suggesting that Nabokov may have spun one of his most fanciful novels from real-world reports of involuntary mental health treatment in Russia.
But in his own life, fearful of causing harm to dissidents, Nabokov refrained from speaking out on behalf of these prisoners until well into his sixth decade in exile. By 1974, Nabokov finally believed he might do more good than harm. Drawing attention to the case of Vladimir Bukovsky—who had been held for years in a psychiatric hospital before being sent to a labor camp—Nabokov posted a public letter calling for everyone who had any influence to "do whatever can be done to help that courageous and precious man."
Nabokov created stories that explicitly delve into madness and imprisonment, including his novels Invitation to a Beheading and Bend Sinister. In The Secret History, I argue that this theme is central to nearly every novel he wrote across four decades, but that we've missed its presence or meaning in his most famous works.
Visiting two stores hoping to get a copy of Stalin's Barber, I was out of luck—both had sold out. At my local library, the wait list stood eleven deep for their lone copy. (I'm sure The Washington Post will be pleased to know it still packs a punch with local readers.) So for now I've settled for ordering the book. Given Levitt's attention to comedy and insanity undergirded by the all-too-real horrors of the century, I will definitely be reading this one, and may write about it again after I do.